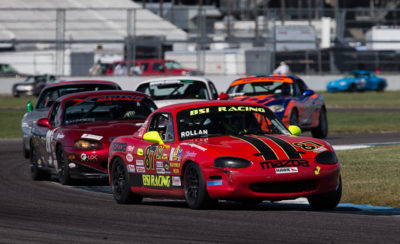 Want to show up and drive without the hassle of buying and maintaining a race car? Relax…there are people who have that covered
Arrive and drive programs – where drivers hire a prep shop to store and prepare their car, transport it to the track and keep everything running smoothly while there – are increasingly popular. But there's another option that doesn't require a big cash outlay to buy a car in the first place: renting. And thanks to a variety of shops that rent fleets of Spec Miatas and other race cars, it's becoming an ever-more-attractive option.
"The rental program is really good for people to either compare their equipment or to not need to own and transport it across the country. All they have to do is focus on driving," says Chris Haldeman, owner of X-Factor Racing in Princeton, Texas. Haldeman was also the Spec Miata polesitter at the 2017 SCCA National Championship Runoffs. "If they're working with any of the shops – OPM, myself, East Street, Auto Technik or Advanced Autosports – we've been there. We know what breaks; we know how to make the cars go. One of our cars wins at every race. Not to mention you get the group of drivers sharing data."
Renting a race car isn't cheap, there's no question about that. Typically, anywhere from $1,000 to $1,500 a day depending on what it comes with. Haldeman cites an SCCA Majors weekend with a test day that includes the first set of testing tires, all consumables, transport and support as about $3,400 for the whole deal. But if you start factoring in the costs of buying a car, transporting it to the track, prepping it and all the other things that go along with it, sometimes it makes more financial sense to rent, depending on how many races one runs a year.
"I think I have rented the car more this year than any other year," says Nick Leverone, one of the proprietors of Flatout Motorsports in Massachusetts. "I've got guys that only do four or five races. What I tell everybody is if you're going to get into this and run four or five races, rent the car. If you're over five races, you start getting to six or seven and you're going to the Majors, you probably have to own your own car. You've got to know everything about it, you've got to have the stuff you want in it, the seat's got to be perfect for you."
As in most everything, prices can get cheaper with volume. "We give a discount for the second class – if you run Spec Miata and STL in the same car, then we give a discount because the transport fees are already in the first rental. Basically we are just covering expenses of tires, brakes fuel and stuff like that in the second rental," explains Leverone.
Rental Spec Miatas sometimes have the reputation of being beat up and a bit below par, but all these shops need people to keep coming back. Repeat customers are the backbone of their business, so they're not going to deliver a car that can't run at the front.
"My personal car that I ran in the SCCA Super Tour series this year was rented every weekend that I wasn't driving it," says Haldeman. "So they knew when they stepped into that car, the car can win. Everyone leaves happy. We keep the prices fair, and it works out."