SCCA's Track Night in America sees growth and changes for 2018 to make it more accessible; participants in Mazdas are eligible for Mazda Motorsports support programs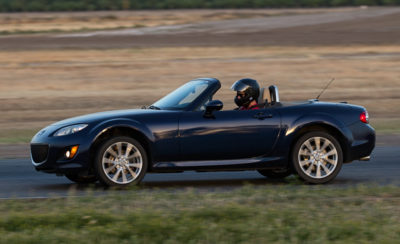 SCCA's Track Night in America has seen more than 17,000 participations in its three-year history of hosting weekday evening on-track events. That encompasses more than 300 events at 30 tracks. For 2018, SCCA expects its regions to put on 135-plus events at 32 tracks with between 8,000 and 9,000 on-track participations. That speaks to the success of a program intended to introduce people to track driving in a fun, safe and non-intimidating way.
"The team put in a tremendous effort in 2014 into developing a concept that was an intersection of the principles of summer camp and the environment of motorsports," explains Heyward Wagner, SCCA's Marketing and Experiential Programs Director. "We wanted it to be experience-driven, it needed to be fun, it needed to be something where the participants had the ability to set their own course and have a safe, fun experience, but also one where there was no expectation of what their outcome would be."
That means coaching rather than instruction. It means no pressure to hit an apex, do a perfect lap or move up into a different group. "Initially there were a lot of reservations about how we were instructing people and the perceived lack of instruction. What we're most proud of is how we've been able to use that model of coaching instead of instructing, of teaching etiquette and culture instead of driving and speed techniques and use that to create a safe, fun environment where enthusiasts can have an opportunity to become participants," Wagner adds.
The program has evolved from being stand-alone events in the middle of the week to often coinciding with other SCCA events such as an autocross, club racing or time trials weekend. That means more Friday night events and a challenge for event organizers, but it also helps to illuminate the pathways to other forms of SCCA participation, Wagner says. While it's difficult for the SCCA to know exactly what course Track Night participants eventually take, there are many who have gone on to compete in autocross and volunteer at races, and 22 percent of new SCCA members in the last three years have some connection to Track Night. One competitor at the 2017 SCCA National Championship Runoffs even started off as Track Night participant.
For 2018, some Track Night-style events will be hosted on weekend days, making them more accessible to some people and also help regions put on joint events. They could even be hosted within the framework of a time trials or club racing event. SCCA is also reworking its time trials program with Track Night in mind.
"We're re-imagining that program as the steppingstone from track events and Track Night into competition programs. Our goal there is to have the same minimal barrier of entry, a lot of the same safety standards that Track Night has, and when we're looking at classing vehicles, we're looking at the 17,500 participations we've had at Track night in the last three years, looking at the cars people already own, and we're building our classing structure around those cars. The intention is that if you're a Track Night participant in a vehicle common to Track Night, we're trying to build something that's very attractive to you. That all culminates at our Time Trial Nationals event in Bowling Green, Ky., in September," says Wagner. That event, at the NCM Motorsports Park, will include a mechanism where someone could show up on Friday, get a Time Trials Novice Permit and, by the end of the weekend, be a fully licensed Time Trials competitor.
The good news for Mazda participants in Track Night or Time Trials (Miata owners will want to check the policies for convertibles) is that they are eligible for Mazda's Member Support Program. Mazda is a partner in the Track Night in America program and there are many benefits to Mazda owners who participate.
"Track Night encompasses a passionate, large enthusiast base that we want to wrap our arms around and support, offering the parts support, technical support and even contingency if they choose to make the transition to road racing or autocross," says David Cook, Mazda Motorsports Manager of Business Development. "We see it as an opportunity to bring more racers into the Mazda family. We are grateful for the passionate enthusiasts who spend their discretionary income with us; SCCA embraces the same philosophy, so partnering with them on this initiative just makes sense."
Wagner says that most participants in Track Night have done more than one event, which is a pretty good indication of success, along with the program's growth. It seems clear that the angle of mixing summer camp philosophy with motorsport has appeal.
"This is truly a different way to approach motorsport than has been done before," says Wagner. "We are, first and foremost, focused on the experience. We are not interested in any form of measurement or achievement – it is purely about your experience and your opportunity."
https://www.mazdamot...om/get-started/