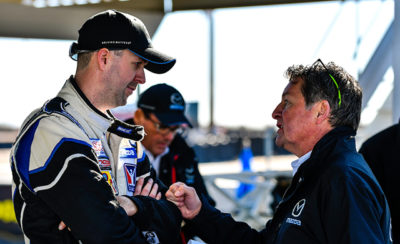 iRacing champion reflects on his first year of real-world racing and participating in the Mazda Road to 24 Shootout
John Allen earned his invite to the Mazda Road to 24 Shootout by winning the MX-5 Cup championship in iRacing, but the Shootout wasn't his first time in a race car – he's been spending the last season honing his skills in a Spec Miata in NASA and SCCA competition, fulfilling a longtime dream that he had connected with in other ways.
"I've always enjoyed driving a car to its limits," Allen explains. "I have always felt like I had a gift for driving, but my only place to apply it growing up was trying to beat curfew on the way home. But I didn't enjoy anything more in life than finding the limits of the car. I just felt very simpatico with a motor vehicle – it didn't matter what one. I would want to know the ins and outs, top to bottom. I turned that into a career in the automotive industry; that was my way to stay within close proximity to it in case nothing else ever came of it. But the feeling never died, so I kind of gathered a second wind with the boost that iRacing gave me. I am getting a late start, but I am going to make up for lost time."
Allen had been competing on iRacing, where MRT24 Shootout winner Selin Rollan says he is "crazy fast," for five years. He has been trying to make it into the Shootout for three years, and finally made it in 2017, even as he added Spec Miata to his repertoire. His first real-world race was SCCA's Hoosier Super Tour at VIRginia International Raceway, which featured a big field of stellar drivers.
"As fast as I could get the car ready, I did it, to the point of financial discomfort," Allen says. "But it was ready to pick up en route to my first-ever door-to-door race, which was the VIR Hoosier Super Tour. I was in tech while the official practice was going on, so my first laps completed in Spec Miata were in Q1 – it was a little ambitious. I went to the guys in front of me and behind me and told them I have never been in a door-to-door race before. They said, 'Oh, you've never been here before?' I said, 'No, it's my first time anywhere, ever, in a Spec Miata. Their eyes got a little wide, but it all worked out."
Allen ran a total of seven weekends in 2017, three in NASA and four in SCCA. The budget wasn't there for the Runoffs, but he felt he learned a lot in his first season. SCCA races exposed him to big fields; NASA races taught him a lot about multi-class racing. And he didn't go to any track that he hadn't raced in iRacing, which he thinks played a big part in his progress.
"iRacing prepared me remarkably well," he says. "There are subtleties at each and every track I've been to that I can identify once I am up to speed. Sometimes it's as simple as the scan on iRacing isn't as new as the track surface. To see that play out at Watkins Glen and Road America and VIR, it's a huge confidence builder. Seat time throughout the year may have played into it, but I felt the most spot-on at Watkins Glen … I felt most aptly prepared just from the sim."
Allen hopes to get back to the Shootout on his on-track performance. The combined NASA Nationals at Circuit of the Americas is looking like an attractive route to get there. But should he return or not, he'll relish the experience from 2017.
"I finally had some legitimate coaching – and high-end, high-level coaching on Mazda's dime," says Allen. "That's invaluable and I'm thrilled to take it. It was all immediately applicable and just seamless. They get you back on track right after you get that info and you are able to apply it instantly. That was extremely satisfying."