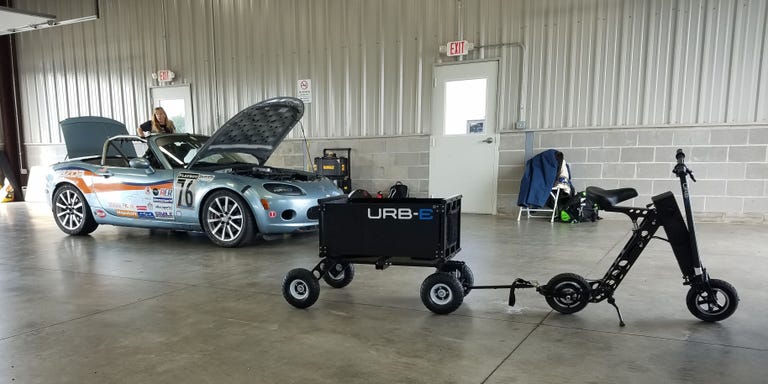 What weighs 142 pounds, takes up a quarter of a truck bed, and has the ability to injure your crew members seemingly at random? The answer, of course, is the Yamaha TT-R90 dirt bike that I borrow from my son for endurance-racing weekends with the nice people at AER. I started bringing it along two years ago when I realized that certain tracks (including, but not limited to, Road Atlanta) had a lot of wide open spaces between the pitlane, the restrooms, the fuel pumps, and other frequently visited places.
My teammates were thrilled to have the little Yamaha thumper available for their errands. But there were problems. The TT-R90 takes up as much space as four mounted wheels and tires or a complete toolbox. It is absolutely miserable to put in a 4x4-height pickup truck bed by myself and nearly as miserable to take back out. We haven't figured out a reliable way to make it pull the trailer that we use to take fuel and tools back and forth to pit lane. Worst of all, one of our mechanics was injured last year when the front end "washed out" on gravel.
Over the past year or so, I've noticed that several competitors have swapped out their "pit bikes" for no-name electric scooters bought through Amazon or eBay. In many ways, they're a better mousetrap–but they also have drawbacks. They are bulky, slow, or a combination of both. They display odd handling characteristics. It's rare to see any of them make it through a weekend without running out of juice. Since they're basically commodity junk, you can't fix them or find replacement parts. Nor can any of them tow a trailer.
When I first saw the URB-E at the New York Auto Show, I had a suspicion that it might be the answer to our pit-bike problem. Once I found out that the company was working on a collapsible trailer that was big enough to fit two of our Hunsaker fuel jugs, I promptly requested a press loaner from the company.
Two weeks before our double nine-hour race weekend at NCM, I received an URB-E Pro GT and a folding trailer. Let me start by explaining how the URB-E works. It's a scooter that folds up to fit in your trunk, front-seat footwell, or hatchback. When you're ready to ride, you unfold it. The trailer, too, folds down to a fraction of its expanded size. Both the Pro GT and the trailer fit neatly in the trunk of my Honda Accord or behind the driver's seat of my Silverado Crew Cab. The scooter itself weighs 35 pounds; the trailer, somewhat less than that.
Clearly, this is intended to be a "last mile" vehicle that takes you from your remote parking spot or subway station to work in a hurry, and I'm sure it would do a great job in that role. However, I would never use it for said purpose because I have something called a Kawasaki ZX-14R that I use for commuting to work. It's slightly faster than the Pro GT, offering a top speed of 186 miles per hour instead of the URB-E's 18 miles per hour, and it can do a wheelie in fourth gear. The URB-E will wheelie if you twist the throttle too quickly–there's a warning hang-tag to inform new operators of that fact. But it won't do it at speeds above, say, 10mph. At least not in my abus... I mean, testing.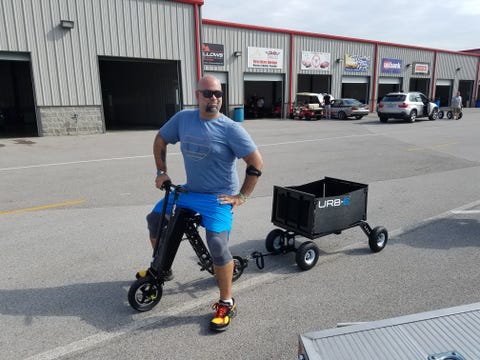 My intended task for the little black scooter was going to be a lot tougher than riding two miles in NYC traffic. My race team used it for hours each day over the course of a three-day weekend, and always with the trailer attached. We took fuel jugs from pit lane to the pumps and back. We carried toolboxes, tents, tires, wheels, helmets, racing gear, my Pelican cooler, and ice. Dozens of bags of ice.
When the URB-E didn't falter under that usage, we started trying more difficult loads. Like four mounted 17-inch wheel/tire combinations, weighing about 180 pounds total. Three fuel jugs at a time, stacked in such a way as to rely on the trailer's solid end walls instead of the flexible fold-out side walls. Finally, my wife decided to pull me around the paddock for twenty minutes. I weigh a lot more than four mounted wheel/tire combinations, I assure you.
We couldn't kill this thing, and we tried. We set up impromptu slalom courses and ran them both with and without a passenger in the trailer. (You really have to lean into the corners.) We ran it flat-out up hills. When we discovered that the rear brake could skid the tire on the polished concrete of our garage floor… well, you get the idea.
URB-E claims a 20-mile range for the Pro GT. I don't know if that's true, but I can attest to the fact that it made it through one full day per charge and required just a few hours to charge back up. It can even charge your phone or USB-powered shop light.
Drawbacks? Well, it's hard to look cool when you're riding it. Large bumps and gravel paths are not really in the URB-E's job description. It doesn't have nearly the self-centering ability of, say, a Yamaha TT-R90, so you need to be sober and alert when you're piloting the thing. The top speed of 20mph is more than enough for a racing paddock or a sidewalk but this is not an effective replacement for a conventional gas-powered scooter on the road.
Last but not least, it ain't cheap. The base URB-E Sport is $899; it's not as fast or smooth-riding as the Pro. Our tester was $1,999 plus $899 for the trailer. A fully accessorized model could run as much as $2,500. Considering that I only paid $700 for my son's TT-R90, that's serious money.
On the other hand, there's a reason that it costs so much. The URB-E is made in California. I don't mean "Designed in California" or "Assembled in California." They make a lot of the components right there as well. And if you call URB-E you get real people with real names who have a real interest in your satisfaction. This is not a $499 no-name scooter where the only effective repair plan is to throw it away and get another one. While the URB-Es are too new for there to be useful reliability data out there, my experience suggests that you won't break yours in a hurry.
There's no such thing as an original idea; about two hours after we started swanning around the paddock on our Pro GT, I saw another one whizzing by, complete with the bad-ass carbon-fiber handlebars that mark the upscale Pro and Pro GT variants. Judging by the number of questions we answered during the weekend, I suspect that we'll see a lot more of them at the next race. We'll certainly be bringing ours back. And if you're the kind of fellow who would never be convinced by something this, er, modern–well, I believe our team has a Yamaha TT-R90 for sale. Low miles, only crashed once. Inquire care of my son; he wants to buy some more games for his Nintendo Switch, so this sucker will be priced to move.