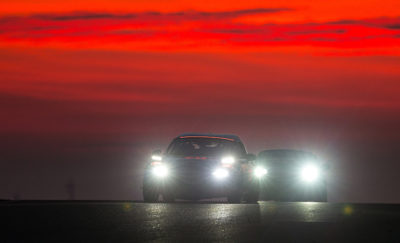 ChampCar and American Endurance Racing get their 2019 seasons started
Mazda Motorsports recently announced a new program for 2019 – support and contingency for endurance racers in ChampCar Endurance Series, American Endurance Series and World Racing League. ChampCar and AER started their seasons in February, both with races at Michelin Raceway Road Atlanta and ChampCar with a West Coast event at Sonoma Raceway. Already some Mazda racers have been able to claim progress toward championships and contingency as part of the new program with class wins and some overall wins as well.
ChampCar, celebrating its 10-year anniversary in 2019, got the season started with a 14-hour race at Road Atlanta, with 72 cars starting on the 2.54-mile, 12-turn track that is undergoing a transformation thanks to title sponsorship from Michelin. Running from 8 a.m. to 10 p.m., the race saw three Mazda teams claim class wins, with the Class A No. 640 Parts Badger Miata taking not only the class victory but finishing second overall. The InActiv Motorsports 626 won Class B, and the Wankels Wankers RX-7 won Class EC to make three different Mazda models among the class victors.
A week later at Sonoma, though, it was all Miatas, including an overall win in challenging, rainy conditions on Saturday for the first of two seven-hour enduros. Each of those races, one on Saturday and one on Sunday, featured a mandatory red flag at noon after starting at 8 a.m. The Class A No. 21 AutoSpec Racing #1 Miata took the overall win on Saturday. Other Mazda class winners were the No. 97 Doorslammers Miata in Class B and the No. 96 NeMo Money in Class EC. On a clear and sunny, but chilly, Sunday, the No. 21 AutoSpec Racing #1 Miata led 120 laps until it suffered mechanical issue. That left the No. 96 NeMo Money Miata in the lead, but Class EC cars are outside the ChampCar rules and aren't considered for overall victory. The three class winners from Saturday also took the class wins on Sunday.
During that same weekend on the other side of the country, American Endurance Racing began its season, also at Road Atlanta. That event saw a pair of nine-hour races on Saturday and Sunday, with the results combined to declare overall and class winners. Entering a 2008 MX-5, Casey Carden Motorsports took first and second in the No. 214 Mazda to win Class 2. The No. 755 WMRacing 1995 Miata won Class 1.
The third endurance organization for which racers are eligible to receive parts points contingency is the World Racing League. It begins its season at Barber Motorsports Park on March 16-17 with nine- and seven-hour races. AER continues April 12-14 at Watkins Glen, and ChampCar is at VIRginia International Raceway this weekend (12-hour race) and Harris Hill Raceway in Texas at the end of March (eight- and seven-hour races).
Mazda teams that finish in the top five overall at AER events have the opportunity to earn parts points (Miatas) or cash (non-Miatas) contingency. Points class champions in WRL and ChampCar also can earn contingency in cash or parts points at the end of the season. All endurance racers are eligible for enrollment in the Team Support Program and the discounts and technical support that comes with it. See here for more information, or click this link to view the full Mazda Motorsports 2019 Contingency document.
ChampCar 14 Hours at Road Atlanta
Feb. 7-9, 2019
14 Hour Race
Mazda Class Winners
Class: Team; car; position; drivers
Class A: No. 640 Parts Badger; 1991 Miata;
Jimmy Crawford (captain), Chris Prey, Katie Crawford, Roy Dietsch, Will Ostrowski
Class B: No. 626 InActiv Motorsports; 1993 626;
Benjamin Dawson, Blake Field, Karthik Pai Haradi, Philip Parana
Class EC: No. 44 Wankels Wankers; 1981 RX-7;
Alan Faver (captain), Chris Hoff, Davis Faver, Jeffrey Lund, Jordan Faver
ChampCar at Sonoma Raceway
Feb. 15-17, 2019
Twin 7 Hour Races
Mazda Class Winners
Class: Team; car
Saturday Results
Class A: No. 21 AutoSpec Racing #1; 1993 Mazda Miata
Class B: No. 97 Doorslammers; 1994 Miata
Class EC: No. 96 NeMo Money; 1995 Miata
Sunday Results
Class A: No. 21 AutoSpec Racing #1; 1993 Mazda Miata
Class B: No. 97 Doorslammers; 1994 Miata
Class EC: No. 96 NeMo Money; 1995 Miata
AER at Road Atlanta
Feb. 15-17, 2019
Twin 9 Hour Races
Mazda Class Winners
Class: Team; car; position Race 1, position Race 2; drivers
Class 2: No. 214 Casey Carden Motorsports; 2008 MX-5; 1, 2
Michael Cobb, Anthony Gough, Mark Lavallee, Paul Fisk, Elliot Hollander, Erick Melton
Class 1: No. 755 WMRacing; 1995 Miata; 2, 1
Josh Castellaw, Hayden Pirrera, Adam Lindsey