Gran Turismo just released nighttime gameplay footage of the Nurburgring 24 Hours. We're floored.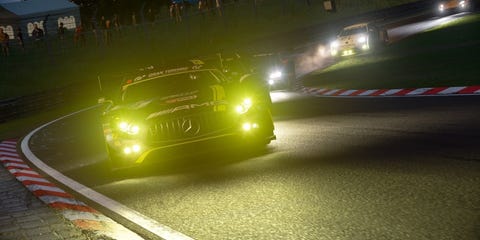 Gran Turismo has always lead the way for racing-game realism, and the newest entry in the series, Gran Turismo Sport, continues that. Just look at this incredibly realistic night-racing replay footage. It shows an Audi R8 and its competitors at the Nürburgring 24 Hour race, and we're pretty astonished watching it.

A couple details stick out, especially the headlights. Check out the way the R8's interior is illuminated after it passes a BMW M6 just over a minute into the clip. In driver view, the BMW's yellow headlights temporarily light up the Audi's cabin from complete darkness with incredible realism. Also note the BMW's reflection in the Audi's rear-view mirror. Attention was paid to every detail.
This clip also demonstrates that Gran Turismo finally gets engine sounds dead-on right with Sport. The Audi's engine note actually sounds like a real V10, and the gear whine and shifting sounds of its sequential gearbox are totally spot-on.
You'll be able to buy Gran Turismo Sport on October 17th, and we can't wait. This is going to be good.