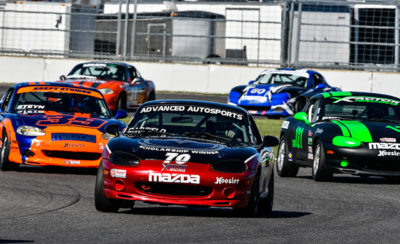 Prep Shops spread around the country, offering a variety of ways to concentrate on driving, without worrying about the logistics
A few weeks ago we took a look at the race car rental market, especially with Spec Miata. There are a ton of shops out there with ready-to-go fleets of rentals. All you have to do is show up and drive.
Still, there are those who prefer to own their own race car. They want it to fit like a glove and look the way they want it. However, like those who seek to rent, they may not have the time or other necessary resources (shop space, trailer, etc.) to do everything themselves. For them, the prep shop comes into play providing everything but the car.
"I think that with today's mentality, the way people are, nobody has time to play with their own race car," says Dave Wheeler, owner of Advanced Autosports in Beloit, Wis. "So for the people that have the money, it's well worth it. They have all of the advantages of a big-time shop without the commitment." Wheeler says he currently has about 37 cars in his shop that belong to customers – cars he brings to the track and for which he provides trackside support. He says he doesn't know if his program is going to grow for 2018, but he's pretty sure it's not going to shrink.
Adds Nick Leverone of Flatout Motorsports in Massachusetts: "I think as the economy gets better, obviously the expendable cash that people are willing to spend goes up. More people are going to race. In the slow times like 2009 and 2010 we saw a dip in the amount of people that were starting up with us. But, you know, the last couple years have been pretty flat as far as revenue. We seem to be getting new customers."
Most every prep shop offers transportation, trackside support and storage as a service to go along with the rental fleet. Either method is a way to get an easy start in racing without a huge commitment to storage and transportation equipment. In the coming weeks we'll look at some of the individual Spec Miata prep shops and the services they offer, which are more and more in demand.
"I am taking more phone calls this year than before," says Chris Haldeman, owner of X-Factor Racing in Texas. "People just want to bring their helmets, their gear and focus on driving. You can just come in from your session, say what the car is doing or what you would like on it. You make a few decisions and then you can actually go enjoy the atmosphere, or hang out with your wife and kids."