Sick Sideways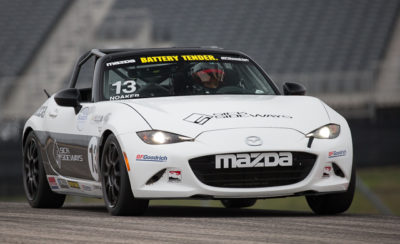 MX-5 Cup champion John Dean II's outfit concentrates on pro racing
When one hears the term "Mazda prep shop," what usually comes to mind is a fleet of Spec Miatas maintained for SCCA and NASA club racers. While Sick Sideways does transport and support a fleet of Miatas that are built for a spec class, rather than first- or second-generation cars, they are Global Mazda MX-5 Cup cars raced by its customers in the Battery Tender Global Mazda MX-5 Cup presented by BFGoodrich Tires.
Sick Sideways owner John Dean II races right alongside those customers, winning the series championship in 2015. His current customers include 2017 Mazda Road to 24 Shootout winner and Round 2 race winner Selin Rollan; 2016 champion Nathanial Sparks; Ashton Harrison; and Robert Noaker. While Sick Sideways, operating out of its Sebring, Fla., shop, doesn't do a lot of club racing – attending a half-dozen events a year and helping some customers running the previous-generation MX-5 Cup car – they do venture beyond pro racing.
"We service track day clients, we store, maintain and transport for track day guys, race car guys, pro racing stuff, as well as build customer cars," says Dean. "We do some performance street cars and we're going to start doing more and more of that. And [we're going to] start some drag racing stuff because Sebring just opened up the front straight – they used to do it years ago, but they just reopened it to drag racing last year.
"We do a lot of track day car builds," he continues. "We'll put roll cages in guys cars that want to go have fun. Some stuff is time-trial based. We do some SCCA cars. We do a lot of custom work, custom turbo builds, custom catch tanks … anything that we look at a car and think, 'We need this,' we just custom build it."
A little over a year ago, Sick Sideways moved into a larger facility, still just down the road from Sebring International Raceway, that has room for expansion. Dean says he has some big goals over the next few years to build a training facility on the site, starting with a skidpad and building from there. He thinks it would be a great complement to the rest of the business, for which he also has some expansion plans.
"We love the MX-5 Cup," he says. "It's a really big part of our business and we plan on staying in the MX-5 Cup as long as we can. That will be our introductory tier to pro racing, and eventually maybe move into Continental [Tire SportsCar Challenge] or something like that level, so if our MX-5 Cup guys want to make that step, they can continue that in our business and we don't lose them to go to another team. That's kind of our two- [or] three-year goal.
"We're really excited about where we've started, where we've gone. We have great clients, we have a really good staff, we have a lot of fun and we've been very successful and won a lot of championships."
Sick Sideways' logo adorns the doors of some of the best racers in MX-5 Cup. But where did the unique name originate?
"It's just a fun term, about driving sideways," explains Dean. "I was working for Skip Barber for years, and we would demo laps … where we'd give rides, and I did a bunch of exhibition stuff, drifting, where we're giving shows, giving rides, showing off different cars and products. Everybody was coming up to me to ask my opinion on how they were driving, because they looked up to me as a result of my driving style. It was a term I just started using: 'Dude, you were sick sideways out there.' When I was starting my business, it was a no brainer for me. It worked out and it's really catchy and easy to remember."
A catchy name for sure, and Dean adds that then-series television announcer and family friend Randy Pobst had so much fun saying that it played a big part in the growth of the team. But, it's likely the team's performance that makes the biggest impression.