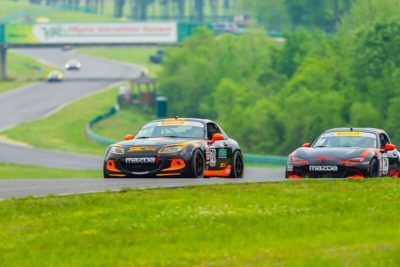 Sign up now for ample, quality track time at VIRginia International Raceway June 18 & 19 with Sports Car Driving Association.
There is never a bad time to be on track, especially in a setting that provides lots of time and even some instruction. That's especially true when the track in question is one of the favorites in the country; doubly so when that same track is hosting the 2019 SCCA Runoffs.
And here at Mazda Motorsports, we think that's an even better deal when you can join a fellow Mazda racer.
On June 18 and 19, you can do all of those things with the Sports Car Driving Association (SCDA) two-day HPDE Track Event at VIRginia International Raceway (VIR). Led by Mazda racer, four-time SCCA Runoffs Champion, FSCCA Cooper Series Champion powered by Mazda, and Pirelli World Challenge Champion Elivan Goulart, the day at the track provides lots of on-track time and plenty of classroom instruction, geared to your skill level.
Goulart and team have designed SCDA events for street sports cars and race cars. Many race cars (especially Spec Miatas, which they have for rent) use SCDA days as a test day for race events.
The VIR event utilizes the track's 3.27-mile full course, just like most major racing events at VIR.
"SCDA VIR event is a great way to learn the track in a low stress environment, similar to a test day," Goulart said. "In addition, we have experts that know the track really well to help them learn the secrets to VIR. We also have classroom sessions, in car instructors, and also professional data/video coaching available."
Days typically consist of four (4) thirty-minute sessions on-track, and either one hour (for advanced drivers) or 90 minutes (for intermediate and novice groups) of classroom time. VIR event entry fees are $389 retail for a single day or only $719 for a two-day event.
Another benefit of VIR – Long Road Racing's (LRR) facility is not far. The development and build partner for the Global Mazda MX-5 Cup, Long Road Racing is located in Statesville, NC, about a 45-minute drive north of Charlotte, and about a two-hour drive to VIR. If you need some assistance before or after (and even during) the VIR event, we at Mazda Motorsports recommend LRR for its experienced engineers, custom fabrication, certified welders, automotive technicians, suspension design and adjustment, automotive painters, race team management, and driver coaching.
About SCDA: Founded in 1995, runs many of its high performance, driver educational events in the Northeast and welcomes everyone from novices with no track experience to seasoned track drivers. More information on the events, including Watkins Glen, VIR, Thompson, New Jersey Motorsports Park, Lime Rock Park and more is available at SCDA1.com.
More information on the VIR event is available by clicking here.