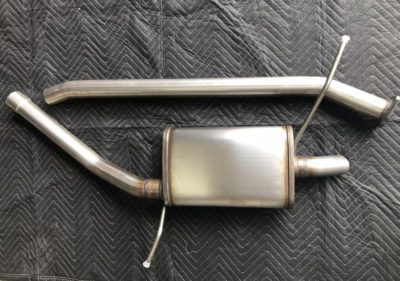 Manufactured and developed by Kooks, the Mazda Signature Exhaust is custom built for NA and NB Miatas and a solution to noise and performance issues in Spec Miata, where every advantage matters. This is a unique product.
Kooks and Mazda Motorsports have worked hand-in-hand to use evolving technology, updated rule sets, and stock hangers to develop an exhaust system that stands head and shoulders above others on the market – and still meets ever-restricting sound standards.
What is it, and why should I have it?
The Mazda Signature Exhaust system is designed for simple installation to current rules, utilizing the transmission tunnel notch and compatible with drop floors. Unlike previously manufactured systems, this has heavy-duty hangers,
Like your race car, this is built for racing – there is adequate ground clearance to keep it from dragging on even larger curbs. It is made from 409 stainless steel, resulting in years of service and a lighter weight than its predecessors.
Advancement in muffler developments allow a quiet, yet free-flowing muffler that doesn't choke up the car, proven on both the dyno and the sound meter.
As an added bonus, and an auxiliary but nice benefit, the muffler sits further to the rear of the car than many exhaust systems on the market. This places it below the stock rear heat shield, making the cockpit slightly cooler.
Where is it eligible? The Mazda Signature Exhaust was built for Spec Miata, and qualifies in ITA, ITS, STL, STU and several Touring classes.
How much does it cost? $340
Where is the inventory located? The product is in stock, split evenly between pickup points in Georgia and California.
What's the part #? 0000-06-5426-99
How can I buy it? Place your order by clicking here, or contact or contact Mazda Motorsports at 1-800-435-2508.