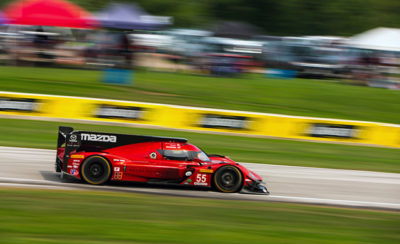 Part 1: On track. Mazda Motorsports' photographer Alison Arena offers tips for better racing photos
The teams and drivers in professional racing have access to many things that club racers don't, and one of those is professional photographers to document their event and season. While photographers are often shooting club racing events – and drivers should take advantage of their services as they will usually have access to get better photos than others – they are not always available, or they may not shoot your session. Fortunately, photography is much more accessible than it once was, and there are some things you can do to get better photos at the track, both of cars in action and in the paddock.
Alison Arena is Mazda's official photographer. She'll spend many weekends a year shooting at IMSA, Mazda Road to Indy and Battery Tender Global Mazda MX-5 Cup presented by BFGoodrich Tires events, among others. She's not only shooting the cars on track, but the drivers, mechanics and engineers as they go about their business during the course of a race weekend. Her years of honing her craft has taught her many things, and she's happy to share tips with club racers.
"A big part of taking pictures of race cars is capturing the movement of the cars in your camera," she explains. "While there's the technical side of it, which is having your shutter speed slow enough so that you can see the movement, a lot of it is basically what you can do even without a camera. That's where you should start – just watch with your eyes, track the car as it goes by you. You can kind of see how the background blurs out, and you're going to try to mimic that with your camera. I don't think enough people do that; they just want to freeze the car, but that doesn't really show what racing is. Racing is about fast-moving objects."
The beautiful thing about digital photography is that once the equipment is acquired, the cost is minimal. Without film to buy and develop, a photographer can shoot as much as he or she wants within the limits of the memory cards. And when people ask Arena how to be a better photographer, that's her reply – just keep shooting. It's not only learning to see as the camera does, but also getting used to the movement of panning the camera along with the car. "It's like a very short dance that has to be pretty smooth. It's like doing ab crunches over and over," she laughs.
One of the things she often hears is equipment envy – because she makes her living as a photographer, she has invested in the proper equipment to do the job effectively and efficiently. So while she has an arsenal of lenses from wide angles to long telephotos, that's not something most hobbyists have. For this, she suggests being mobile, learning to get closer and farther away. She is also aware of location envy – at most events she has far better access to locations that will help her get better photos. But just because the access is limited doesn't mean it's always the best spot, and she often retreats to spectator areas to find a different or better angle.
"There are a lot of spectator areas that I go over to, because you have a clear vantage point and, although you may be farther away, you can play with panning, utilize the sky and shoot really wide so you can see the atmosphere around you, or the people. Part of being in the spectator area is you have the freedom to move around, and you keep moving until you find a place that's a different vantage point. Also, don't be afraid to try to shoot photos that you don't think will work. Sometimes I will spend a whole session trying to create a photo that in the end didn't work out the way I wanted it to. Sometimes you just have to try it; it can go one of two directions – it's either, 'Oh, I just made art!' or it's, 'Yeah, not so much.'"
Following Arena's tips won't make you a professional, but they'll go a long way toward improving your images. In our next installment, we'll take a look at ways to get better off-track photos.