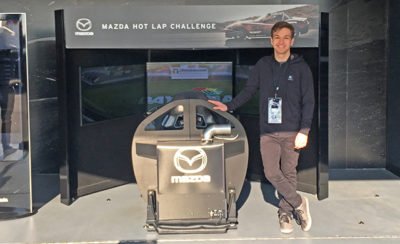 Logan Clampitt won Mazda's Hot Lap Challenge and will step behind the wheel of a Global MX-5 Cup car
Logan Clampitt has been trying for years to make it to the Mazda Road to 24 Shootout via participating in iRacing. And now, thanks to Mazda and iRacing's Hot Lap Challenge, the California teenager will finally have the opportunity to step into a Global Mazda MX-5 Cup Car at VIRginia International Raceway.
"I'm very excited," Clampitt enthuses. "I've been on iRacing for six years, and it's been a main goal of mine to get into real-life racing. Racing has been a passion of mine since I was a little kid. It's been a goal, and we're almost there."
Clampitt earned the opportunity by virtue of first finishing in the top five in a time-attack-style lap of Daytona International Raceway in the first online round of the Mazda Hot Lap Challenge. That earned him a spot in a simulated race at Daytona, in which he qualified on pole and went on to win. The reward was a trip to the real Daytona for the Rolex 24, where he faced off against Chuck Mayer, who turned the fastest lap in the at-track simulators for the season.
In a final race made all the more dramatic by having Radio Le Mans' John Hindaugh do the announcing, Clampitt beat Mayer to win the test in the Global MX-5 Cup car. It was the bright spot in a trip that was full of highlights.
"It was a dream come true," Clampitt says. "I couldn't believe I was there. Mazda gave my dad and I the greatest experience ever. It's one trip I'll never forget in my lifetime. Mazda gave us hospitality and we also got to go up on the flag stand, which was super awesome. Seeing the racing and walking around the infield, being there at night … it was really awesome."
Now Clampitt, a student when he's not virtual racing, has the opportunity to test a Global MX-5 Cup car at VIR – although he'll be doing a lot of laps around VIR on iRacing to prepare. Mazda Motorsports will check back with him after that test to learn more about his first experience in a race car and how it compares to the virtual world.