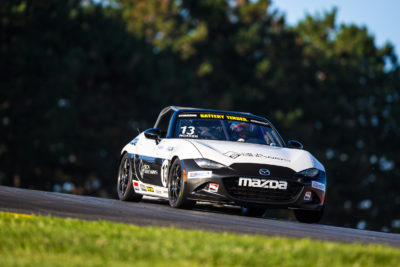 Racers and track-day enthusiasts have one place to go to purchase pre-owned, 4th generation Global Mazda MX-5 Cup cars. Long Road Racing, official Mazda business partner and exclusive builder of these factory-supported race cars now hosts this pre-owned marketplace on its website.
These pre-owned Global MX-5 Cup cars deemed the "best value in sports car racing," feature the SKYACTIV-G 155-HP engine, FIA-approved roll cages, fully-adjustable racing suspension and various options. The race cars are featured in the Battery Tender Global Mazda MX-5 Cup presented by BFGoodrich Tires as a part of the Mazda Road to 24 ladder system. Additionally, these cars are raced in Pirelli World Challenge and grassroots racing series including SCCA, NASA, AER and WRL. These professionally-built and maintained race cars will make great vehicles for racing as well as for track days and high-performance driving education.
It is expected that there will be more first-generation (2016-2018) Global MX-5 Cup cars for sale since the 2019 Global MX-5 Cup race series will feature a new 2019 Global MX-5 Cup race car and its upgraded 181-horsepower powerplant. Information to purchase first-generation Global MX-5 Cup cars can be found at www.longroadracing.com/home/marketplace. If you would like to list your first-generation Global MX-5 Cup car for sale, contact Long Road Racing at (980) 223-8547 or info@longroadracing.com.
Long Road Racing, headquartered in Statesville, NC is a race car design, fabrication and build company specializing in sports car road racing. We are the official builder of the Global MX-5 Cup race car and the Ultimate MX-5 performance roadster based on the 2015+ Mazda MX-5 Miata. For more information about Long Road Racing's capabilities, visit our web page at LongRoadRacing.com and follow us at facebook.com/longroadracing.